With climate change leading to uncalled for weather conditions, it has become quite important to have a weather app on your phone.
But, is one particular app always enough to ensure you don't get caught in the storm?
Not really!
Regular weather app users understand the dilemma that comes with discrepant weather conditions: you check the glass panel of your smartphone and then you look at the glass window – and everything seems opposite.
To save you time, energy and help you plan ahead, here are 10 best weather apps to keep an eye on what's happening in the sky!
Here are 10 BEST WEATHER APPS
 1. Accu Weather
This app is the flagship product of Accu Weather, a giant American company popular for its legacy-level weather research and journalism. The app's performance is an accurate reflection of the company's motto: combining weather data, technology and human insights to make a difference for humans and businesses.
Accu Weather's unmatched forecasting capacities are a result of its trade secret 'Exclusive RealFeel Temperature'. In addition, the app API leverages Accu Weather's inherent research and deep learning technology infrastructure to notify users what's happening in their backyards.
In addition to conventional features like hourly, daily and weekly updates, Accu Weather gives real-time forecasts on climatic conditions via the built-in map and supports smartphones, smart TVs and wearable devices.
Accu Weather is free to use and download and so earns through sponsored advertisements. Users can upgrade to an ad-free version with $2.99 per month. It has more than 1M downloads on Google Play and more than 1.5M on the App store.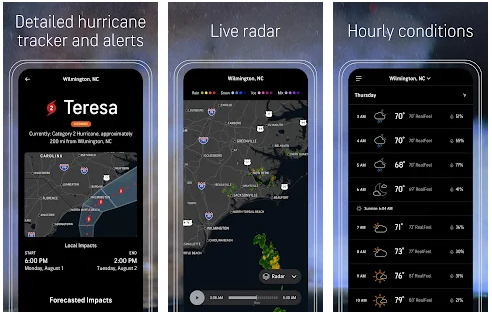 2. The Weather Channel
Weather channel is for true weather enthusiasts, travelers and tourists. It performs crowd-sourced weather reporting and users can join their favorite meteorologists for live forecasts.
From technical standpoint, Weather Channel is owned by TWC Product and Technology and leverages IMR (Immersive Mixed Reality) – a leading tech stack still in its experimentation phase by several other sectors. IMR, combined with real-time satellite videos and radars, is the actual explanation behind the dot accurate hourly to 150-day forecasts.
3. Dark Sky
Dark Sky is one of the rare apps in this list which processes on flagship API and is not free. The company now operates under Apple and is limited to iOS users. The app has a super user-centric interface, is accurate to the dot and has everything a millennial user would expect as 'value of money'.
While the app is not available for Android smartphones and wearable devices, several other applications use Dark Sky's API to pull weather data, then process it into meaningful forecasts. The app currently costs $3.99 on the App store and limited for users from US, UK and Ireland.
4. Carrot Weather
Caroot Weather uses Dark Sky's API and seems to be doing well for Phone users with an average rating of 4.7. The app shows weather updates in a twisted way and allows users to get a little social with their forecasts.
Users can choose from different bots to deliver weather news, record and share their own weather update videos and check weather conditions of the past 70 years, or 10 years in future.
Carrot is free to download and use, and shows sponsored advertisements. Users can upgrade to an ad-free version and unlock secret locations and achievements with $4.99 per month or $19.99 per year.
5. Flow X
Flow X is a weather tracker app for Android users and its iOS version is in the pipeline. The distinguishing feature of the app is its comparison model. It is good for free and great if users pay for the premium graph and report customization feature. This feature makes the app ideal for users planning to hike, swim, fish, sail, and so on.
The app's database collects real-time updates from different third-party weather APIs including Accu Weather and Dar Sky's.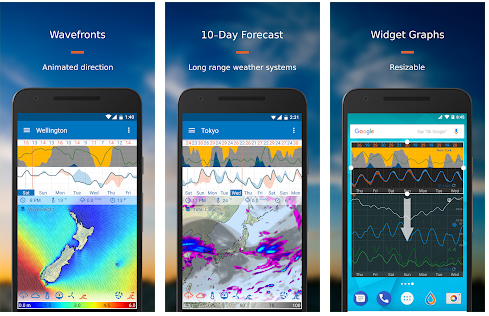 6. Samsung Weather
Samsung Weather app is a flagship product limited to Samsung users, but good enough in functionality so users don't have to see annoying advertisements in third-party apps. The app has essential features and shows everything from hourly updates to 10-day forecasts and is accurate enough so users don't have to rely on third-party apps.
The app is built on Android app development architecture, has a robust user experience and extracts signals from Samsung devices' passive sensors, battery temperature and magnetic flux.
7. 1Weather
1Weather is a fairly accurate forecast app with multiple basic to advanced features. The distinguishing characteristics of the app include the health information available on maps and the 1Weather shorts that present alert in 60 words.
The app is free to download and use. It earns from sponsored advertisements and users can upgrade to an ad-free version for only $1.99/month.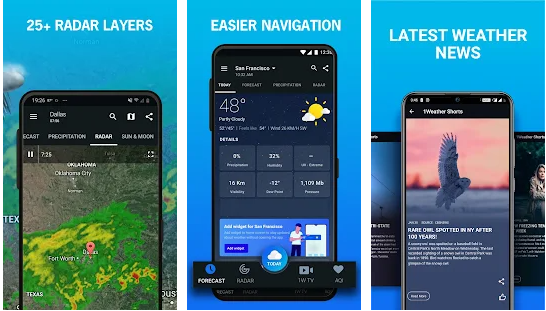 8. Weather Bug
This is the official business app from Weather Bug, a weather forecast company of media giant GroundTruth. From light 10-day forecasts to severe weather conditions, users can view customized reports. It has a special hurricane tracker that shows bit-sized text news so users stay prepared.
This app is one of the most comprehensive ones you'll find online covering weather alongside traffic conditions. It uses diverse technologies including satellite cameras and multiple weather APIs.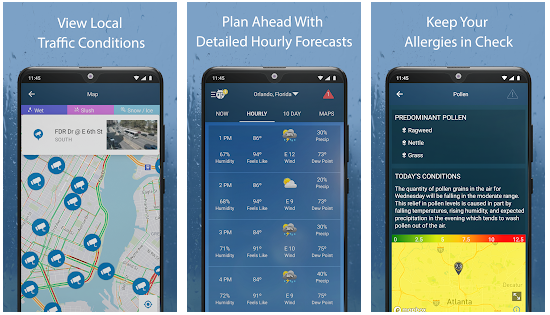 9. What The Forecast
Weather Forecast is one of the most unique weather apps available online. Users can choose from several backgrounds to view their weather updates, set customized alerts, ask for weather forecast using text-to-speech and share local weather updates on social media platforms.
It uses NOAA (the national database) and Aeris Weather, a premium weather API that leverages leading technologies, satellite recordings and cameras to update real-time weather forecasts.
The app is free to use and download and earns through in-app purchases.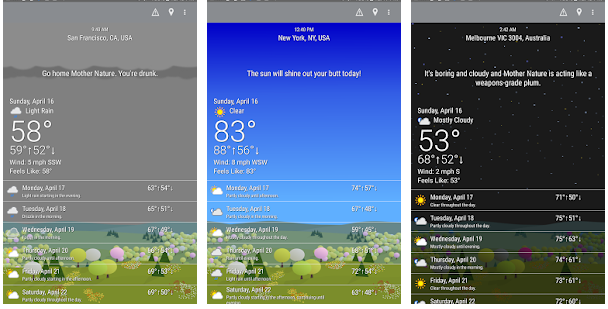 10. Yahoo Weather
Yahoo Weather is an app from popular American web services provider. This is one of the most elegantly designed and minimalistic apps in the list. It has similar features to Accu Weather: shows accurate real-time updates on a variety of weather conditions including severe thunderstorms to local pollen count, for hours to 10-day forecasts. Users can add up to 20 cities of their choice and only swipe left to right to view their weather reports.
The application has world-class user experience, shows high-resolution imagery and real environment photographs in the backgrounds and classic user interfaces to justify the sponsored advertisements that users would have to view as part of the package.