What if TikTok disappeared tomorrow? While the platform has seen astronomical growth since coming onto the scene in 2018, social media platforms come and go all the time. MySpace (in its original format), Vine, Google+… all gone. And who knows what will really happen to the app if Microsoft ends up buying it. What will TikTok influencers and brands advertising on the platform do to reach the Gen Z and Millennial audiences that flock to the app?
There's never been a better time to check out alternatives to the popular short-form video-sharing app. That's why we've put together this list of the best TikTok alternatives you should try out now, you know, just in case.
15 APPS LIKE TIKTOK For People Who Love To Create Videos
From feature-stack to performance and usability, all these apps are strikingly similar to TikTok, yet they offer something new to the users.
Dubsmash: The First-Ever Video Sharing App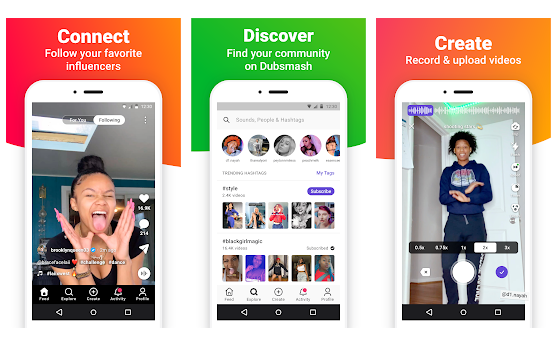 Image Source: Dubsmash
Launched by Reddit in 2014, Dubsmash is a popular app like TikTok offering a fun and engaging platform to create lip-sync videos.
With a huge music collection and editing features, the app became an instant for users to create short and funny videos.
Also, the app became a popular choice for celebrities like J-Lo, Kendell Jenner, and Liam Payne to stay connected to their followers.
However, the launch of Twitter did result in decreased popularity and usage of Dubsmash; it still had more than 100 million downloads globally.
Additionally, the app also experienced severe performance glitches; however, with massive updates in 2017, it regained its place as the second-most favorite video social media app.
And, since the TikTok app is undergoing the risk of being banned globally, Dubsmash bags 73% of the US market in terms of daily active users alongside other TikTok alternatives, as per the survey.
Features:
Record and upload short videos
Numerous Dubsmash filters, text, and stickers
Global Dubsmash community
Rating: 4.2
Price: Free
2. Likee: The Popular TikTok Alternative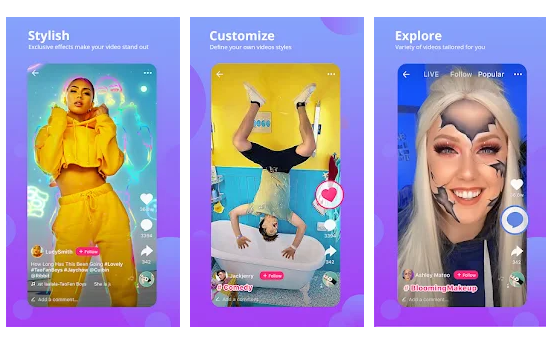 Image Source: Likee
Formerly known as Like, the app is another popular TikTok alternative where users can record short videos, lip-sync their favorite songs, and create live stream videos.
Likee is popularly known for its impressive special effects and a vast collection of over 2000 songs to keep the users hooked.
Also, the app includes plenty of filters, video edit/trim options, and additional tools to speed up or slow down your video.
Talking in numbers and popularity, the app has a strong userbase and fan following.
Headquartered in Singapore, the app bags immense popularity as the fourth most downloaded social media app like TikTok with 300 million global downloads in 2019: ranked as the most popular app in the first quarter of 2020.
So, what's keeping you from trying Likee?
Features
Music magic filter that changes with volume and tone of the music
FaceMagic – an AI-powered feature that helps you swap faces with your favorite characters.
SuperMix – allows creating short videos in a few seconds.
Rating: 4.3
Price: Free – In-app purchases
3. Snapchat: A Popular Social Media App Among Millennials
Image source: Snapchat
A popular social media among millennials and generation Z, Snapchat is another most popular app like TikTok.
Snapchat has been one of the fastest-growing apps, with a number of daily active users above 265 million during the last quarter of 2020.
And, it's fair to say why.
The app is known for creating short videos of up to 60 seconds that disappear after 24 hours.
However, with the immense popularity of TikTok, this app has experienced an increase in downloads and active users, primarily for having a similar feature set.
Moreover, the app also includes direct messaging and photo-sharing features and comes along with a number of drool-worthy filters.
So, it might not be a perfect TikTok alternative; the app has a lot to offer in terms of its video-creating feature.
Features:
A collection of video and photo editing tools
Creating caricatures – a cartoon version of yourself
AR-based lenses to take photos and share your live location
Rating: 4.2
Price: Free – In-app purchases
4. Instagram Reels: An App Like TikTok For Masses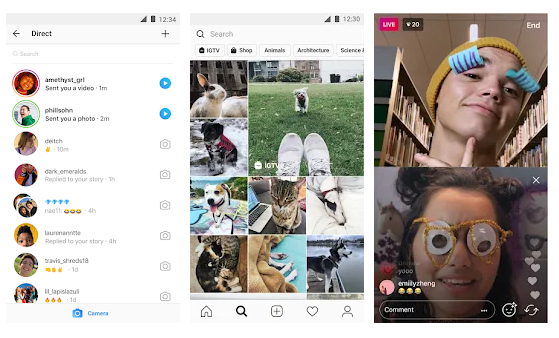 Image Source: Play Store
Instagram has transformed from a simple photo-sharing app to a platform for bloggers and businesses who wish to have a strong online presence.
And that's because of over 1 billion monthly Instagram users in 2021, which includes businesses, influencer marketers, and celebrities like Dwayne Johnson (who happens to be the most expensive influencer marketer), and users aged 14 and above.
Meanwhile, with the release and popularity of TikTok, Instagram came up with its very own alternative versions of TikTok: Instagram Reels.
Launched in 2020, it lets you create and share short videos with your friends.
Having a simple and familiar interface, Instagram Reels is sure to be one of the best apps like TikTok.
Features:
A vast music library
Add Instagram stories and go live from your profile.
Add hashtags and special effects to your reels.
Rating: 4.7
Price: Free – In-app purchases
5. VideoShow: An Easy-To-Use App Like TikTok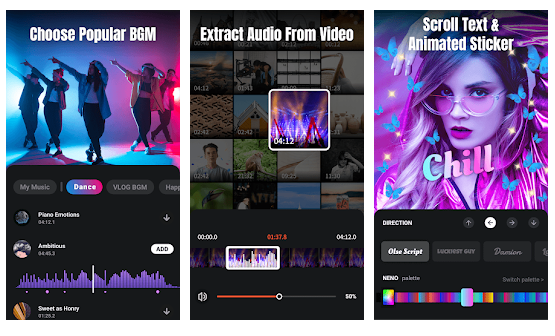 Image Source: VideoShow
VideoShow, also commonly known as Music VideoShow, is another popular TikTok alternative for users to create short videos for one minute.
Since the majority of TikTok alternatives offer short-spanned videos, VideoShow stands out for the video duration it offers.
This app comes along with several features like tons of music, filters, and editing options to try out when creating videos.
Although the app's feature-set is not as robust as TikTok or other apps like TikTok, it is known for being an easy-to-use video creating and editing app.
VideoShow can be an optimal choice as a TikTok alternative if you are looking for a lowkey solution.
Features:
More than 50 video themes
Add special effects, filters, and doodle text to videos
Integration with other social media apps like Facebook, Instagram, and YouTube.
Rating: 4.7
Price: Free – In-app purchases
6. Firework: An App Like TikTok For Businesses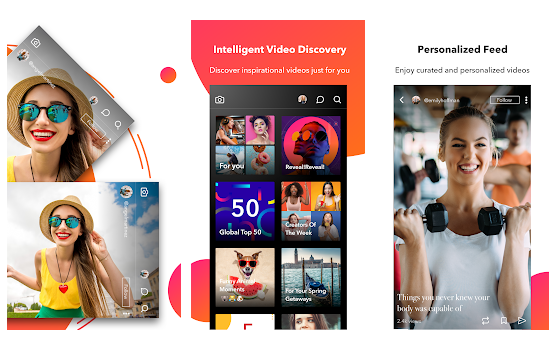 Image Source: Play Store
Another app functionally similar to TikTok, Firework is a suitable alternative for creating high-quality short videos across all genres and categories.
From fashion and art to lifestyle and comedy, the app allows you to create an array of horizontal or vertical videos, called "reveal videos," and loop them together to enable an immense user experience.
What makes Firework better than other apps like TikTok is that it primarily focuses on creating good quality videos with excellent editing features, background music, and filters.
Well, you can always create your favorite lip sync videos, but this TikTok alternative app is not just them.
What's more interesting is that with consistent growth in the app's revenue of more than $11.3 million, businesses and publishers are integrating it to enhance their existing web experiences – making it a perfect TikTok alternative for businesses.
Features:
The app does not include like/unlike or follow/unfollow features. Just create, post, and repost videos.
The direct message allows connecting with others.
Time and speed adjustment to make your video more interactive.
Rating: 4.6
Price: Free
7. Videoshop: An Easy-To-Use TikTok Alternative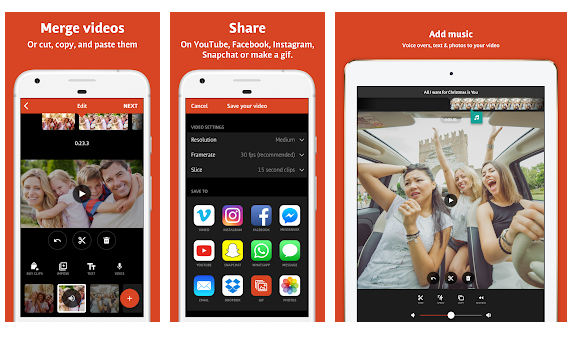 Image Source: Videoshop
Another relatively simple and easy-to-use app like TikTok for users, Videoshop, is the perfect choice to put your creative ideas at work and showcase your talents.
With plenty of features similar to most of the social media video apps, what strikes this app out from the rest of TikTok alternatives, is the easy 4-step process to create videos.
Additionally, you can also choose your choice of song from the Apple Music library by downloading it directly (for iOS users).
Also, you may add different sound effects, special effects, stickers, and even subtitles to make your videos more interactive.
Moreover, the app comes with plenty of video editing tools to ensure the final product is exactly as you want it to be.
Features:
Change video speed to slow motion or fast-paced
Video combiner to merge different videos into one.
Share to different social media platforms like Facebook, Instagram, Snapchat.
Rating: 4.6
Price: Free – In-app purchases
8. Beat.Ly: An App Like TikTok For Vloggers
Image Source: Play Store
Here's our next pick as the perfect TikTok alternative for influencers and vloggers, Beat.ly.
An HD music video maker lets you create videos and picture slideshows, add background music and special effects, and everything else you like.
The app comes along with a number of video templates, sound effects, a vast music library, and transition effects.
It offers a 720P of HD pro video making and editing features to ensure your app looks nothing less than professional movies and videos.
Features:
Customized transitions to adjust video speed.
Merge photos into a video with special effects and your choice of music.
Seamless video sharing to your choice of social media platform.
Rating: 4.6
Price: Free – In-app purchases
9. Funimate: An Alternative App For Young TikTokers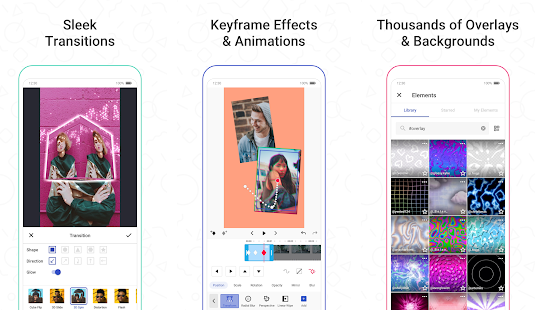 Funimate is our choice as one of the best apps like TikTok for kids and young people to create, edit, and share music videos.
What's makes Funimate the best TikTok app alternative is the fact that the majority of its features are similar to TikTok.
For instance, creating and editing video loops, adding special effects, a huge collection of music and background music to lip-sync videos, a video compilation, etc., including some of the most attention-seeking features of the app.
Also, with a vast community and seamless performance, Funimate has been ranked as the number 1 app on the app store in more than 100 countries.
Features:
Collaborate with friends and merge videos into a single clip
Social media integration to share your apps.
A vast user community to keep you motivated.
Rating: 4.7
Price: Free – In-app purchases
10. Zoomerang: An Feature-Packed TikTok Alternative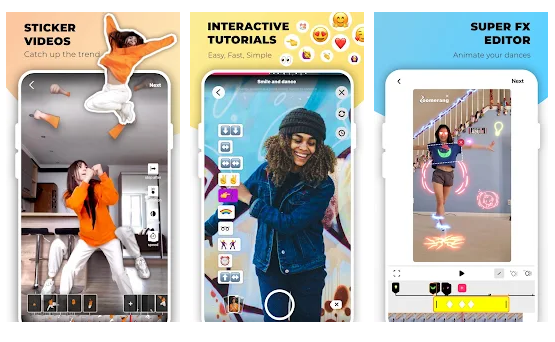 Image Source: Zoomerang
Looking for a fun and interactive TikTok alternative?
Zoomerang is undeniably the best option that lets you create short videos with just one button and shine through your social media channels.
What makes this app like Musically (or TikTok) is its fantastic feature-set, including about 100s of special effects, transitions, emojis, and your favorite music to spark your creativity.
Meanwhile, the app offers plenty of features as a free version; the subscription version just makes the editing much better and enhanced.
With more than 80K downloads in 2021 and annual revenue of 6 million, the app is an excellent alternative to TikTok.
Features:
Zoomerang tutorials to help you create perfect videos.
Regularly updated music collection consisting of all the popular numbers.
A subscription version with an ad-free and enhanced editing experience.
Rating: 4.6
Price: Free – In-app purchases
11. Triller: An Alternative Dance Like TikTok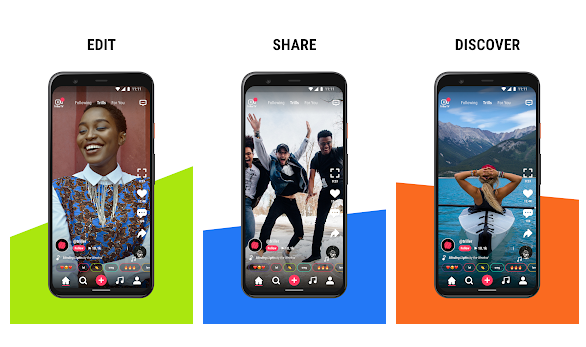 Image Source: Triller
Triller is a definite pick as the best app like Musically, offering much more than TikTok itself.
Well, for starters, the key difference between Triller and TikTok is that it allows you to create videos as long as the length of a song, making it the best dance apps like TikTok, whereas the latter's videos are usually 15 seconds long.
The features don't end here; there is plenty you get to enjoy while using Triller (mentioned below in the features section).
And, this is the reason the co-founder and producer Ryan Kavanagh declared the app as the "adult version" of TikTok.
With TikTok's ban, Triller has been one of the most downloaded apps in more than 50 countries, with annual revenue of $25.2 million.
Features:
Access to Apple Music and Spotify libraries
AI-Based video editing
Real-time movement analysis to adapt the music beats.
Share your videos on social media channels (Facebook, Instagram).
Rating: 4.6
Price: Free – In-app purchases
12. MuStar: The Perfect TikTok Alternative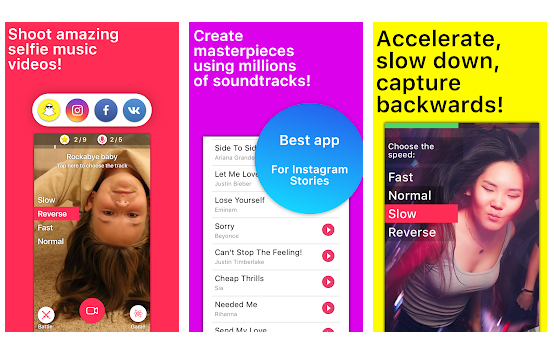 Image Source: MuStar
Since we are talking about the apps like TikTok, MuStar has to be there since it is pretty much the "perfect TikTok alternative."
Because the app features everything that you would have been using in TikTok.
Everything is pretty much the same, from special effects and editing tools to a huge collection of songs and background music.
However, one strikingly different and better feature in MuStar is the simplest and more intuitive user interface making it easier for users to create, edit, and share videos.
Also, the app does not ask for registration to make videos and share them.
Features:
Huge collection of music, songs, and dialogues for lip-syncing videos.
Constantly updated to ensure performance
Easy sharing to Facebook, Instagram, WhatsApp, Snapchat, etc.
Rating: 4.6
Price: Free – In-app purchases
13. Lomotif: A Music Video App Like TikTok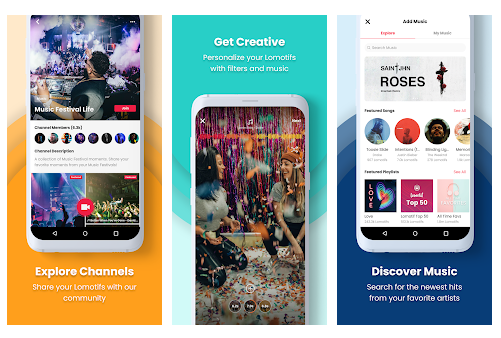 Image Source: Lomotif
This TikTok alternative has hands-down the largest user community as compared to other apps like TikTok.
Lomotif entertains more than 50 million users to create a video, add music, GIFs, and special effects, create slideshows, and edit videos as they like.
The app lets you add any song of your choice from different genres and connect with your other app users around a specific topic.
Also, Lomotif comes along with a number of other suitable features (some of them mentioned below) to let young users and kids create quirky videos.
Features:
Separate feeds (features and following) to keep users entertained.
Social media integration and sharing to Facebook, YouTube, Instagram, and more.
Wide user community to interact and share your work with.
Rating: 4.6
Price: Free – In-app purchases
14. Vigo Video: A Live-Streaming Video App Like TikTok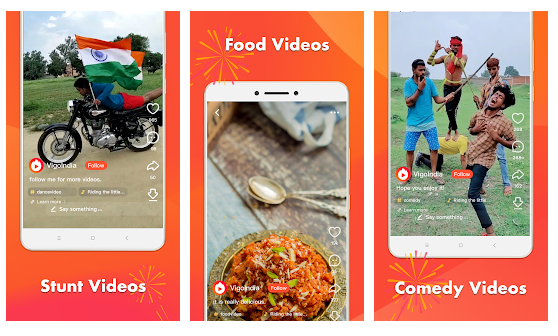 Image Source: Play Store
Next on the list is Vigo Video, formerly known as Hypster, with quite a noteworthy fan following for several reasons.
Firstly, the app lets you earn actual rewards (mint money) with every like, comment, or share on your video.
Subsequently, as it is possible to make a real $500 with the app, its global popularity is unbeatable.
With more than 100 million downloads, the app has gained massive user attention because of the plenty of features to create the perfect videos.
Also, the app includes weekly challenges and quizzes to help users earn money.
Features:
Live video streaming
Change background, light, and add special effects.
Chat with your features in DM or by group messaging.
Rating: 3.9
Price: Free – In-app purchases (contains Ads)
15. Byte: A TikTok Alternative From The Makers Of Vine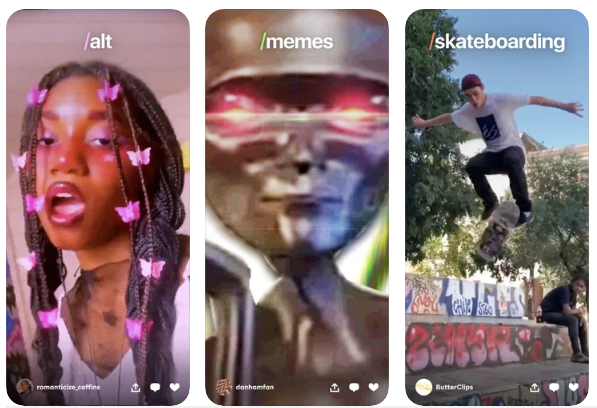 Image Source: Byte
By any chance, if you are missing Vine, here's another video-making app from the makers of Vine, Byte: one of the best TikTok app alternatives.
Like TikTok, the app keeps videos sorted into categories and genres, including comedy, fashion, pets, etc., to make it easier for users to find the content they like.
One of the striking features of the app is that videos on this platform are called Byte that you can create by taping the circle at the bottom of your screen.
However, the length of a Byte is only 6.5 seconds long, so it's crucial to make sure that every second counts.
Although, unlike many other videos creating apps mentioned in the list, Byte does not offer a list video editing feature, which you might find annoying or maybe just better.
The app has been particularly famous among Generation Z, with users aged between 16 to 24, and bagged 1.3 million downloads within the first week of launch.
Features:
Keep track of your performance via the "Activity" tab.
A wide user community to interact with.
Rating: 4.1
Price: Free
There's no denying that Tiktok has taken over short-form video entertainment. But with all the concerns about cybersecurity and privacy surrounding it, it's well worth looking for other apps like Tiktok.