MILAN—Alitalia, the airline that for years symbolized Italy's postwar boom and la dolce vita, is slated to fly its last flight Thursday, after the Covid-19 pandemic delivered a final blow to a company propped up by the country's governments for years.
The 75-year-old national flag carrier—which in the late 1960s was Europe's third largest, behind British Airways and Air France —has been in an Italian version of bankruptcy protection since 2017. It hasn't turned an annual profit in two decades, long struggling with competition from low-cost airlines and its own high-cost, and strike-prone, workforce. Those troubles have continued almost to the very end: A strike this week led to the cancellation of more than 100 flights.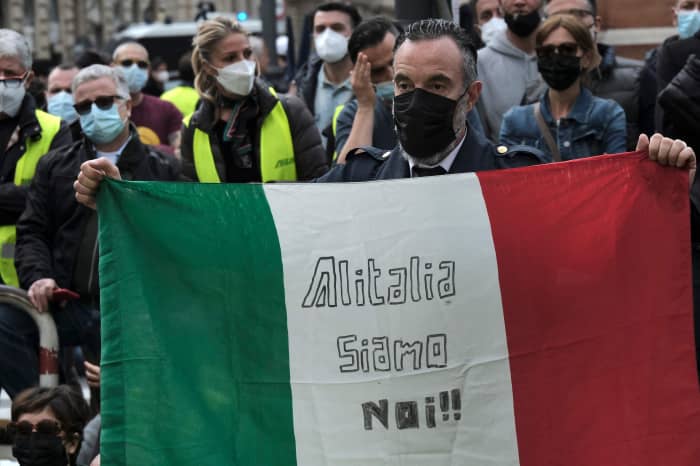 Formed shortly after World War II, it became the unofficial carrier of a newly emerging jet set between the U.S. and Europe. In particular, it whisked Italian and American movie stars between Hollywood and Italian movie sets. Alitalia's heyday coincided with the romanticization of Rome's "sweet life" in films such as Federico Fellini's 1960 "La Dolce Vita." Illustrious fliers included Sophia Loren, who once took part in advertising for the airline.
A succession of popes also used it as their airline of choice: Alitalia's distinctive green and red tail-fin colors served as a backdrop for papal airport arrivals around the world. Pope Francis flew Alitalia last month from Rome to Hungary and then onto Slovakia.
This artical is first shown on Market Watch Source link Author on date 2021-10-14 08:03:00
MarketWatch is a website that provides financial information, business news, analysis, and stock market data. Along with The Wall Street Journal and Barron's, it is a subsidiary of Dow Jones & Company, a property of News Corp.